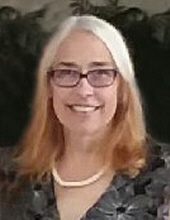 Marlene Kaye Priewe (nee Hartner) died trusting in the promise Jesus gave her and all believers, "Because I live, you also will live." Visitation will be Sunday, September 9th at Harder Funeral Home from 2:00 - 5:00 P.M. Funeral service will be Monday, September 10th at Loving Shepherd Lutheran Church, 3909 W. Clinton Ave in Milwaukee with visitation from 11:30 - 1:00 P.M. and service to follow. Memorials can be made to Loving Shepherd or Mesothelioma Applied Research Foundation.
Marlene was born February 8, 1960 to Theodore and Phyllis Hartner (nee Lueskow) in Milwaukee, WI, along with her two older brothers Dale (Marion) and Don (Karen). She was baptized and confirmed into God's family at St. John's Ev. Lutheran Church, Milwaukee. Marlene graduated from Madison High School in 1977 and Marian University in Fond Du Lac in 1981. She began her nursing career at Northwest General in Milwaukee and dutifully served in a number of capacities at St. Michael`s Hospital until it closed in 2006. Marlene continued her career as an ardent Milwaukee Public School nurse until her death.
Marlene and her beloved husband Mark were married in 1981 at St. John's. She was the devoted mother of Daniel (Michelle), Angela (James), and Timothy (Carissa). She was also blessed to be able to dote on her three grandchildren: Braylee, Henry, and Morgan. She shared her love of camping and traveling with her family; planning summer trips that included historical places, sports stadiums, caves, oceans, and amusement parks. She was the biggest fan to her husband and children, cheering them on at countless baseball and softball games.
Marlene showed her love to those around her by teaching in Jesus Cares Ministries, Sunday School and Vacation Bible School. She served as a secretary in the Lutheran Women's Missionary Society and sang in the church choir. All this she did to praise her Lord who redeemed her.
Diagnosed with Mesothelioma of the peritoneum in 2014, Marlene exemplified her faith--always confidant that her LORD directed her life. She was able to share her faith with her doctors and others battling against cancer. She laughed, joked, and cried with hospital staff and loving friends that surrounded her during her hospital stays. To the very end, Marlene knew that her Savior was calling her by name and welcoming her home with open arms.
Marlene died at the age of 58 and is survived by many loving family members including her mother Phyllis, husband Mark of 37 years, and three children, Dan (Michelle--Braylee, Henry, Morgan), Angie (James), and Tim (Carissa). She is also survived by her brother Dale and family (Michelle & Mitch--Owen and Noah), (Laura & Mike), (Bob & Tamara--Evelyn), (Bonnie--Simon and Elliot), as well as her brother Don (Karen) and family (Diana & Ben). Her extended family includes her brother-in-law Bill (Sharon) Priewe, sister-in-law Cathy Priewe, cousins Patty (Jim) Nagel and Lynn Charles, many nieces, nephews, and a host of lifelong friends and co-workers whom she stayed in contact and with whom she appreciated friendship, love, and support.
Her favorite hymn, "The King of Love my Shepherd Is," is the song I am sure she sings before the throne of God who redeemed her by the blood of Jesus, and called her to his side in Heaven--not by works but by God's love and grace. --Mark
VISITATION
Sunday, Sep. 9, 2018
2:00 PM - 5:00 PM
Harder Funeral Service Inc
18700 West Capitol Drive
Brookfield, WI 53045
SERVICE
Service at 1 on Monday at loving shepherd, with a visitation before at 11:30.
Loving Shepherd is located at 3909 w Clinton avenue in Milwaukee
...more